RCC was established in 2002 with the aim of providing commercial and contractual support and assistance to BMS and other Specialist Contracting companies.
As such, RCC's training focuses very specifically on the commercial and contractual needs, problems and opportunities that specialist contracting companies encounter every day.
The programme consists of an integrated set of directly targeted and high quality, intensive full day training courses with the aim of providing clear and practical understanding using real-life, common industry sector reference material and experiences.
Our trainers and operational team have all worked in the specialist contracting sector of the construction industry so we are well aware of the risks and abuses specialists can be exposed to when contracting. We strive to provide quick effective solutions to address any problems and provide practical help and guidance for long term protection and profitability of your business.
Courses available include:
Practical and easy to understand focus on the elements of Contract Formation to enable you to protect your Controls and Energy / LV business
Next dates: 3rd & 11th April 2019
Practical and easy to understand guidance on the key elements of planning and delivering a Controls, Energy or LV project
Next dates: 12th & 30th April 2019
A practical and interactive review of the key aspects of getting paid with focus on how to avoid pitfalls and how to make the system work properly
Next dates: 14th & 16th May 2019
A-Z of Contracts: Contract Formation & the Importance of Order Acceptance
All you need to know, from contract formation and order acceptance to understanding and managing contract terms.
Next Dates: TBC
Managing Contract Scope, Change & Progress
How to understand and manage the contract terms to ensure your obligations and entitlements relating to time and money are met and recovered.
Next Dates: TBC
Getting Paid
How to get what you are entitled to, paid on time.
Next Dates: TBC
Using NEC Contracts: What You Need to Know
All you need to know about the operational, contractual and commercial implications of using NEC contracts.
Next Dates: TBC
Claims, Disputes & Adjudication
How to handle claims and disputes effectively including resolution through adjudication.
Next Dates: TBC
Effective Cost, Value & Subcontract Management
Managing the value and costs of specialist construction work including the procurement and management of subcontracting.
Next Dates: TBC
Benefits of Attending:
Whilst all our courses can be attended individually, they are designed to run sequentially to give specialist sub-contractors the skills and support that will help and assist you to:
• Understand and agree a fair and reasonable contract
• Get paid what you are entitled to, in full and on time
• Recover additional monies for varied, disrupted or prolonged works
• Manage your projects more effectively
• Avoid and/or resolve disputes
• Implement good commercial contract practices
Download Brochure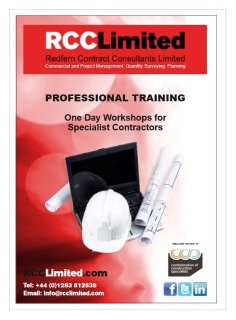 "Andy has provided exceptional support to key staff at Glazing Vision. His knowledge and interaction with our team has improved our commercial competence and confidence here at Glazing Vision. Furthermore his support in offering advice on complex contracts has been invaluable, I sleep a lot easier at night having Andy's expertise to call upon."
"We work with RCC under a Commercial Support Agreement. It allows our staff to spend their valuable time on what they're best at and if we don't spend all the budget we get a credit. Win/win. Even if you're not sure whether you need it, give them a call and have a chat."
"Having RCC's knowledge and skills at hand has been invaluable when working through our contracts. Highly recommended!"